Passing of Commander Paul D. Shankland, PhD, USN (Ret)
Posted: 10/20/2020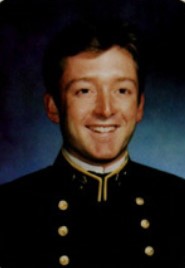 Commander Paul D. Shankland, PhD, USN (Ret) '83, of Cedar Key, FL, passed away on 20 October 2020. He was 59 years old. He had a dynamic personality and was loved by all.
The son of Joseph and Karlyn Shankland, Paul was born in Florence, Italy on 6 March 1961. After graduating from Ragsdale High School, in Jamestown, NC in 1979, Paul entered the U.S. Naval Academy with the Class of 1983.
At the Naval Academy, Paul was a Mathematics major and proud member of the 8th Company. He was active in the choir and the astronomy club.
Following graduation, Paul earned his Surface Warfare Officer designation aboard USS SELLERS (DDG-11). In 1986, he transferred to the aviation community and earned his wings, becoming an E-2C Hawkeye pilot. During his twenty-five years on active duty, Paul earned a master's degree in Astronomy (with distinction),from the University of Western Sydney, and a Doctor of Philosophy degree in Astronomy from James Cook University.
Paul flew with various squadrons aboard USS FORRESTAL (CV-59) and USS GEORGE WASHINGTON (CVN-73). He then served as a flight instructor at VAW-120, and then at Carrier Airborne Early Warning Wing Atlantic. As Strike Operations Officer, aboard USS THEODORE ROOSEVELT (CVN71), he concurrently flew with VF-102 and HS-11. Paul then served as Executive Officer, then Commanding Officer, of VT-9
Paul's final active duty tour was as the Director of Space Acquisitions, Programs, Plans & Requirements (N5/N8) at the U.S. Naval Observatory, where he was designated a Space Professional. He proudly retired from the Navy in 2008, with 3,800 hours in 22 aircraft types and 374 arrested landings on 12 aircraft carriers.
Paul was then appointed as the sixth Director(GS-15) of Naval Observatory Flagstaff Station, where he served for twelve years, until his civil service retirement in January 2020.
He is survived by his beloved wife and best friend Amanda; mother, Karlyn; sons, Nick and Rudger, both of Denver, CO, and five stepchildren: Rodrick, Andrew, Lilly (USNA '21), Wesley, and Molly, all of Flagstaff, AZ.
A celebration of life will be held at Williams-Thomas Funeral Home in Newberry, FL on 27 Oct 2020. Paul donated his body to science and will be interred at Arlington National Cemetery.
Donations may be made to a worthy cause of choice, or the U.S. Naval Academy Physics Department (astronomy projects), the Fallen Aviators Fund, or to the Commander, Airborne Early Warning Wing Atlantic.
«
Memorial Service – Colin Kiser '83