News, Events & More
Change of Command & Retirement, ADM Craig Faller '83
Posted: 10/3/2021
From Craig:
Below is a link to my change of command and retirement.  All 83 classmates are invited in person.   29 OCT 2021 @ 1300.  US Army Garrison Miami, SOUTHCOM Headquarters in Doral FL.  Honored to have served our Nation and Navy.  Martha and I will relocate to State College, PA.  GO NAVY.  
Would you mind sending out a special 83 update to highlight.  Sorry such a short notice.  Thanks again,  vr/Craig
You have been sent an eInvitation for the following event
Change of Command between ADM Faller and GEN Richardson
To view your invitation please click the link below.
If you are unable to click on the link please copy and paste the address into your web browser.
https://einvitations.afit.edu/inv/anim.cfm?i=617323&k=0460450A7954
Memorial Service information: Tom Spriesterbach, 23rd company
Posted: 9/17/2021
Memorial Service Information for Tom Spriesterbach on 25 Sep 2021.
VISITATION
Saturday, September 25
9:00-11:00 AM
Chapelgate Presbyterian Church
Worship Center
2600 Marriottsville Rd
Marriottsville, MD 21104
410-442-5800 x.128
CELEBRATION OF LIFE SERVICE
Saturday, September 25
11:00 AM-12:00 PM
Chapelgate Presbyterian Church
Worship Center
2600 Marriottsville Rd
Marriottsville, MD 21104
IN LIEU OF FLOWERS
Donations may be sent to:
Fisher House Foundation
or
Samaritan's Purse International Relief
Sad News: Tom Spriesterbach, 23rd company
Posted: 9/14/2021
Tom Spriesterbach, 23rd company passed away very early this morning.  He turned 60 last December.
Keven Talbert is in contact with the family, and he, Scott Sundt, Kevin Newmeyer, and Steve Zotti will hopefully be with the family tomorrow.
Additional details will follow with a future burial at Arlington National Cemetery.
As Keven stated in the email he sent to many this morning, Thank you for the email responses that Alice read to him last week. He was in great spirits, though still did not know if he would regain arm function. The infection took over in a hurry.
Among the words I read this morning in the email chain were the following:
My thoughts are will Alice and his family. Tom left a wonderful legacy in his children and grandchildren. May they draw comfort from our support. I will miss you Spriester.
Youngster year, Spriester and I suffered through Harry Keith's class on Material's Science. Or I should say that I suffered and Spriester cruised.  If I had a nickel for every time that I walked down to Tom's room to get help . . .   Anyway, he was always there.  He'd stop what he was doing and help this bonehead company mate.  I will always remember that.
Please mail a card or even send an email to the sprietp1@jhuapl.edu as that will be seen by the family.
The Family of Tom Spriesterbach
9217 Maple Rock Dr.
Ellicott City, Maryland 21042-1829
Take care of one another and reach out to hug or virtually hug a classmate today.
USNA Physics exam – Midshipmen Separated
Posted: 8/27/2021
ANNAPOLIS, Md. – The U.S. Naval Academy has completed the adjudications of honor violations that occurred during the SP211 General Physics I exam taken primarily by second year (sophomore) midshipmen in December 2020. Ultimately, 18 midshipmen were separated from the Naval Academy.
"Character development is an ongoing process and midshipmen must make the choice to live honorably each day and earn the trust that comes with a commission in the Navy or Marine Corps. This incident demonstrates that we must place an increased focus on character and integrity within the entire brigade," said Superintendent Vice Adm. Sean Buck.
In December 2020, 653 midshipmen took the final exam for General Physics I, administered through the website myopenmath.com. Midshipmen were given written and verbal instructions stating they could not use outside sources to complete the exam, including other websites.
USNA became aware of potential improper use of outside sources in exam submissions through various sources, including post-exam midshipman discussions on an anonymous chat platform. The superintendent immediately directed an investigation.
The multi-disciplinary investigation team (headed by a post-major command Navy Captain and comprised of six judge advocates, an officer from the Brigade Honor program, and an officer who is also an academic Department Chair in a highly technical discipline) reviewed thousands of pages of information and technological data with assistance from multiple experts, including NCIS. The investigation team reviewed website browsing history during the exam timeframe for all midshipmen who took the exam. The investigative team determined that violation of the exam rules was primarily carried out by individuals visiting websites independently and without any coordinated effort.
The investigation found that the COVID-19 pandemic mitigation requirements forced a position of flexibility in exam administration. The Physics Department employed safeguards to prevent cheating, such as requiring midshipmen to complete calculations on scratch paper that was turned in with the exam. Instructions were clear and explicitly stated that use of outside resources was prohibited. Those instructions were also verbally briefed prior to the commencement of the exam. The biggest vulnerability identified was inadequate proctoring.
One hundred and five midshipmen were identified to have likely accessed unauthorized resources and were processed through the Naval Academy's Honor System for suspected violations of the Honor Concept. Each case was handled in accordance with established procedures contained in USNA Instruction 1610.3L, Brigade Honor Program.
Eighteen midshipmen were separated from the Naval Academy. Eighty-two midshipmen found in violation of the Honor Concept were retained in the Brigade with sanctions and entered into a five-month honor remediation program. Four midshipmen were found not in violation of the Honor Concept by the Brigade Honor Board and one is awaiting adjudication by the Brigade Honor Board.
USNA now strongly advises instructors to use paper-based, in-person exams. In addition, when an electronic device is required for an exam, either a browser security program must be activated for all online examinations or a proctor must be able to view each midshipman's screen throughout the exam. All electronic devices not authorized for exam use must be stowed. USNA will also block access to websites for which there is faculty consensus that their potential misuse as a vehicle for academic dishonesty far outweighs any educational value.
Additionally, midshipmen will now write out and sign an honor pledge at the commencement of each examination.
The Naval Academy's Honor Concept, first formalized in 1951 and slightly modified in subsequent years, is not an honor "code" and specifically does not include words to the effect of, "… nor tolerate any among us who does." This was, and remains, a purposeful choice. The Naval Academy stands firmly behind the Honor Concept as written; the onus for change is not with the Honor Concept, but the responsibility lies with the Brigade of Midshipmen to live up to its principles.
As a result of this investigation, the entire Brigade of Midshipmen conducted a day-long "honor conference" with intensive training and discussions on honor in April 2021. There will be a renewed focus on character and professional development throughout this academic year. The Brigade owns the Honor Concept in order for there to be the type of accountability and moral development necessary to move forward and learn from this incident.
The mission of the Naval Academy is to develop midshipmen morally, mentally, and physically and to imbue them with the highest ideals of duty, honor, and loyalty in order to graduate leaders who are dedicated to a career of naval service and have potential for future development in mind and character to assume the highest responsibilities of command, citizenship, and government.
For more information about the Honor Concept, visit https://www.usna.edu/About/honorconcept.php.
For details concerning separation procedure and resignation, please refer to the COMMANDANT OF MIDSHIPMEN INSTRUCTION 1920. lH.
For readmission instructions, please refer to our Admissions Page. For more information about the Naval Academy, visit www.usna.edu and visit our Facebook page.
Cmdr. Alana Garas, USN
Public Affairs Officer to Superintendent Vice Adm. Sean Buck, U.S. Naval Academy
121 Blake Rd, Annapolis, MD 21402
Office: 410-293-1520
Email: garas@usna.edu
www.usna.edu
'83 Bike ride prep coordinated by John Hults
Posted: 3/1/2021
In the midst of the Dark Ages (as Naval Academy Midshipmen call mid-winter) I bring you dreams of golden light filtering over the peaks of far-off National Parks, great camaraderie with classmates and friends and a level of fitness your January body can't even imagine.  Just envision this: we get through all of this Covid madness, you get riding fit over the summer, and then you will join us next fall for a gorgeous ride down the spine of the Rockies and through some of our incredible country's most beautiful terrain.  Join us!
This is the third year of "sea trial" stage rides in preparation for our planned 2023 ride across the country for our 40th year reunion for the US Naval Academy Class of 1983.  In 2019 we rode 245 miles and climbed 7,500 feet on gravel paths from Pittsburgh to Annapolis.  In 2020 we rode 380 miles and climbed 13,500 feet from Libby to Bozeman, MT.  This year's ride will be the most challenging (and rewarding) yet, with 470 miles and 18,000 feet from West Yellowstone, MT to the outskirts of Denver, CO.  It should be spectacular riding.
As good as the riding will be, the highlights of the past rides are really more associated with the time spent with classmates and friends, good food, a few beers, and a lot of sea stories.  Here are some photos and videos from the past rides: 2020 Stage II Ride: Libby to Bozeman, MT and 2019 Stage I Ride: Pittsburgh to Annapolis.  We'd love to have you on this year's ride.  Join us!
And finally, Just the Facts:
Who:  Up to 15 USNA '83 Classmates with family and friends.  Most of you have expressed interest (some I added just because) and feel free to forward on to others
What:  Ride from Yellowstone National Park through Grand Tetons National Park and end up in Denver, CO. Here's an overview of the current track we're planning to follow: Ride with GPS Route Map
When: 04-11 Sep 2021. We'll take advantage of your time off around Labor Day Weekend.  Arrive anytime before Saturday, 04 Sep – come early and spend a few days in Yellowstone! We will start riding on Sunday, 05Sep and finish on Saturday, 11Sep for flights out of DIA on Sunday, 12Sep 2021
Where: Fly into W. Yellowstone, fly out of Denver, and ride your bike (fully supported with luggage, food and lodging along the way) between the two
How Much?:  We've got the budget down pretty well, and generally do the whole thing (with shared rooms) for $100-125/day.
Because we have to book hotels in advance, you can secure your spot for this ride by sending me a deposit of $750 ASAP.  If you're interested, contact me with all the questions you'd like, and feel free to ping past participants to get their tips and insights.  It's really a blast – you CAN do this – and we'd love to have you join us for the laughs along the way.  Again, JOIN US!!
Go Navy '83!
John
John Hults
johnrhults@gmail.com
206.914.6062
Seattle, WA
Jim Kuzma: February 8, 1961 ~ February 5, 2021
Posted: 2/11/2021
Captain James "Jim" Kuzma U.S. Navy Ret.  (February 8, 1961 ~ February 5, 2021)
James Michael Kuzma, born February 8th, 1961 in Steubenville, OH, passed away unexpectedly on Friday February 5th, 2021. He and his wife of 36 years, Karen, have been residents of Cocoa Beach since 2008.
In addition to his wife Karen, he is survived by his four children, James Michael II (Andrea Pinzon-Garcia), William Jordan (Patricia Kuzma), Lauren Rose (Aaron Possinger) and Candace Marie and five grandchildren, Ariana, Lillian, Camilo, Adelaide, and Maverick. He is also survived by his mother, Catherine Kuzma, and mother-in-law, Candace Jordan.
The third child of four, he earned a Bachelor of Science degree in Mechanical Engineering from the US Naval Academy (1983), a Master of Science in Engineering Management from the Catholic University of America, and a Master of Science in National Resource Strategy from the Industrial College of the Armed Forces (ICAF).
He served 28 years with the US Navy before retiring in Cocoa Beach in 2011. His first assignment was the USS Jacksonville SSN 699. He went on to Naval Sea Systems Command serving during 1988-90 as a Fleet Liaison and Systems Test Director for various submarine Combat and Weapons System Program Offices. He served as Engineering Officer on the USS Newport News SSN 750 from 1991 to 1994. In 1994, he was assigned to the CINCLANTFLT Nuclear Propulsion Examining Board. He served as the Executive Officer on USS Atlanta SSN 712 from October 1996 to July 1998 before reporting to Submarine Warfare Division of the OPNAV staffer where he served as Submarine Combat Systems Requirements Officer. Following that he assumed command as the Commanding Officer of the USS Boise 764 from March 2001 until October 2003. He went on to serve as Deputy Director for Operations on the staff of the Commander, Naval Submarine Forces from 2003-2005. From October 2005 to August 2007, Captain Kuzma served as Special Activities Division Chief on Strategic Command's Joint Functional Component Command for Intelligence, Surveillance and Reconnaissance staff before attending ICAF from August 2007 to June 2008. He rounded off his impressive Naval career as the Commanding Officer of the Naval Ordinance Test Unit in Cape Canaveral (2008-2011). However, he went back to work shortly later at Space Florida as the Senior Vice President and General Manager in 2011 until the day he passed away.
Captain Kuzma's personal decorations include the Legion of Merit, Bronze Star, Defense Meritorious Service Medal, Meritorious Service Medal (two awards), Navy and Marine Corps Commendation Medal (six awards) and Navy and Marine Corps Achievement Medal (four awards). While at the Naval Academy he was a member of the USNA Basketball team from 1979-1983. He was an avid fan of the Pittsburgh Steelers, Pittsburgh Penguins, Tampa Bay Lightning, and US Naval Academy sports teams. His favorite pastimes were going to the various amusement parks and live concerts, and rejoicing in silly antics like playing pranks and YouTube videos of the Village People, Baby Shark, and Minions during dinner. Most of all, his special joys in life were spending time with his five grandchildren, children and wife.
In lieu of flowers, the family asks that donations in Captain Kuzma's memory be made to Wreaths Across America. https://wreathsacrossamerica.org/
Beckman-Williamson Funeral Homes and Crematory – Cocoa Beach
101 North Brevard Avenue
Cocoa Beach, FL 32931
Tel: 1-321-784-0116
https://www.beckman-williamson.com/obituary/CaptainJamesJim-KuzmaUSNavyRet
Sad News: Eric Jackson '15th company
Posted: 1/4/2021
Eric Jackson, 15th company, passed away on 12/31/2020.  I do not have the details yet but will forward them as soon as I do.
Please keep Eric, his family and each other in your thoughts and prayers.
Passing of Commander Paul D. Shankland, PhD, USN (Ret)
Posted: 10/20/2020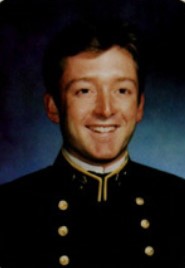 Commander Paul D. Shankland, PhD, USN (Ret) '83, of Cedar Key, FL, passed away on 20 October 2020. He was 59 years old. He had a dynamic personality and was loved by all.
The son of Joseph and Karlyn Shankland, Paul was born in Florence, Italy on 6 March 1961. After graduating from Ragsdale High School, in Jamestown, NC in 1979, Paul entered the U.S. Naval Academy with the Class of 1983.
At the Naval Academy, Paul was a Mathematics major and proud member of the 8th Company. He was active in the choir and the astronomy club.
Following graduation, Paul earned his Surface Warfare Officer designation aboard USS SELLERS (DDG-11). In 1986, he transferred to the aviation community and earned his wings, becoming an E-2C Hawkeye pilot. During his twenty-five years on active duty, Paul earned a master's degree in Astronomy (with distinction),from the University of Western Sydney, and a Doctor of Philosophy degree in Astronomy from James Cook University.
Paul flew with various squadrons aboard USS FORRESTAL (CV-59) and USS GEORGE WASHINGTON (CVN-73). He then served as a flight instructor at VAW-120, and then at Carrier Airborne Early Warning Wing Atlantic. As Strike Operations Officer, aboard USS THEODORE ROOSEVELT (CVN71), he concurrently flew with VF-102 and HS-11. Paul then served as Executive Officer, then Commanding Officer, of VT-9
Paul's final active duty tour was as the Director of Space Acquisitions, Programs, Plans & Requirements (N5/N8) at the U.S. Naval Observatory, where he was designated a Space Professional. He proudly retired from the Navy in 2008, with 3,800 hours in 22 aircraft types and 374 arrested landings on 12 aircraft carriers.
Paul was then appointed as the sixth Director(GS-15) of Naval Observatory Flagstaff Station, where he served for twelve years, until his civil service retirement in January 2020.
He is survived by his beloved wife and best friend Amanda; mother, Karlyn; sons, Nick and Rudger, both of Denver, CO, and five stepchildren: Rodrick, Andrew, Lilly (USNA '21), Wesley, and Molly, all of Flagstaff, AZ.
A celebration of life will be held at Williams-Thomas Funeral Home in Newberry, FL on 27 Oct 2020. Paul donated his body to science and will be interred at Arlington National Cemetery.
Donations may be made to a worthy cause of choice, or the U.S. Naval Academy Physics Department (astronomy projects), the Fallen Aviators Fund, or to the Commander, Airborne Early Warning Wing Atlantic.
Memorial Service – Colin Kiser '83
Posted: 10/11/2020
Memorial / Committal Service information for our Classmate Colin Kiser has been passed to me by Tom Modly as follows:
A memorial service and inurnment will be held for Colin Kiser '83, 36th Company, at the USNA Columbarium on October 27, 2020 at 1000.  A reception will follow at Galway Bay (formerly the Little Campus) on Maryland Avenue beginning at 1100.  If you plan on attending please send a note to Tom Modly at tmodly@gmail.com so that he can work with Colin's family to determine the expected attendance.  
Look inside for special Class of 1983 Items
Posted: 10/7/2020
Now Available – for a limited time
1983 Neck Ties, Bow Ties and Ladies Infinity Scarfs
All items are hand made, ties at the fabric mill, scarves at the vendor's Vermont facility.
Because the fabric is custom-manufactured for this order, this is a one-time opportunity with a minimum order requirement of at least 50 ties (scarves don't count in this because of the fabric contract with the mill). Unfortunately we can't promise delivery in time for the holidays, but we do expect them to arrive very early in 2021. With this in mind, the ordering deadline is 2359 EDT 21 OCT 2020.
1

1983 Long Tie

Class of 1983 Long Tie. Comes in two lengths – 58″ and 62″.

1983 Lady's Infinity Scarf

Class of 1983 Long Tie. Comes in two lengths – 58″ and 62″.

1983 Bow Tie

Bows are 2.5 inches high. Pre-tied or to-be-tied, sizes 13.5-15.5 inches and 15.5-19.5 inches. Design same as the Long Tie.
Order a tie (Either long or bow) and a lady's scarf and receive a $5.00 discount. Just enter the discount code COMBO at checkout.
Contact 1983 Class Store Coordinator Lynn Thomas at lynn.thomas@1983.usna.com with any questions.